Reader's Choice 2021 Best Carpet Cleaning Svc
I have put my heart and soul into this business for 30+ years and I am so blessed to have such wonderful customers! I am eternally grateful for the love and support of such an awesome community!
PROFESSIONAL CARPET CLEANING SERVICE
At Johnson County Chem-Dry, we provide Green Certified, Kid Safe, Pet Safe Carpet Cleaning that Dries Fast (in 1-2 hours). We are your local Pet Urine and Odor Removal Experts. We eliminate odors and bacteria from Pet Urine Deposits, leaving your carpets fresh and healthy. We also clean Tile & Grout, Area Rugs, Wood Floors & Upholstery, as well as Granite Counter Tops. We are your Healthy Home Authority!
When you choose Johnson County Chem-Dry for your professional carpet cleaning, you get a deeper clean, faster-drying carpet, and a healthier home for you and your family.
Our Hot Carbonated Extraction (HCE) Process is Tested and Proven to Remove Non-Living Allergens
We understand that you have a choice in professional carpet cleaning services.  However, not all carpet cleaning services are alike.  To find out how big an impact a Johnson County Chem-Dry cleaning can have on home health, we thought it would be helpful to measure how effective our cleaning process is in eliminating unhealthy and unwanted elements from your home.  So we commissioned a leading independent air quality laboratory to conduct a study, using Chem-Dry's Hot Carbonating Extraction (HCE) process in multiple homes.  The lab found that a Chem-Dry carpet cleaner removes an average of 98.1% of common non-living household allergens, such as dust mite allergens and pet dander from the carpets and upholstery we clean.  With a Johnson County Chem-Dry carpet cleaning, you can relax more easily about the healthfulness of your home for your family.
DRIER. The Chem-Dry cleaning process uses 80% less water than typical steam cleaning, so carpets dry within hours, not days. This means you and your family can get back to enjoying your home sooner. See a full comparison of Chem-Dry vs steam cleaning to see all of the benefits of choosing Chem-Dry carpet cleaners.
CLEANER. Our primary solution is carbonated and, just like club soda, as it penetrates deep into your carpet's fibers, it lifts the dirt from deep within your carpets so it can be whisked away with our powerful extraction equipment giving you the most thorough clean. And there is no dirt-attracting residue left behind, so carpets stay cleaner longer.
HEALTHIER. We use a low-water method which means there is less risk of mold and mildew growth under your carpet that can result from the excessive water used by most steam cleaners. We use an all natural, green-certified cleaning solution that does not contain any harsh soaps or chemicals and is completely safe and non-toxic for your family and pets. 
Johnson County Chem-Dry is Platinum Certified by The Carpet and Rug Institute as a Approved Carpet and Rug Cleaning Service Provider under the CRI's Seal of Approval Program. We are the ONLY Platinum Certified, Bonded, and Insured, Carpet Cleaner in Johnson County and Hood County, Texas. 
---
OFFICE, RETAIL AND COMMERCIAL CLEANING
Johnson County Chem-Dry understands that businesses want to provide a clean and healthy environment for customers and employees. Chem-Dry's continuous innovation has developed state-of-the-art equipment and cleaning solutions, allowing us to deliver a professional cleaning service that provides a deeper clean, allows carpets and upholstery to dry faster and creates a healthier work environment.  Click on the link to learn more about our Commercial Cleaning Services.
You can also visit us on Google at Carpet Cleaning Near Me.
---
COMMON CARPET CLEANING QUESTIONS
What method is best for Carpet Cleaning?
Chem-Dry's carpet cleaning process is better and healthier than other methods for your carpets, rugs, and upholstery.  Johnson County Chem-Dry's unique hot carbonating extraction carpet cleaning method uses the power of carbonation to extract more dirt and grime from your carpets, leaving NO dirt attracting residue behind, giving them a deeper and longer lasting clean. Our carbonated cleaning solution only requires us to use a fraction of the moisture that other methods, such as steam cleaning, require. This allows your carpets to dry faster, typically in 1-2 hours.
How much does it cost to have a carpet professionally cleaned?
An average household carpet cleaning is around $180.  Prices vary with the number of rooms or the area of the carpet being cleaned.  Professional carpet cleaning companies price their services either "By the Room" or "By square footage".  Expect to pay a service call, just as you would with a plumber, electrician, or HVAC technician, plus a per room charge or per square foot charge added.  A reputable carpet cleaning service averages around $20 per area or $.25 per square foot.  Specialty stain removal, pet urine removal, and stain protection will come with additional charges.
Is it worth having carpets cleaned?
Your health and your family's health are the number one reason why professional carpet cleaning is worth it.  Professional carpet cleaning can eliminate unhealthy and unwanted elements from your home, removing common indoor allergens and improving your indoor air quality.  Professionally cleaning your carpets will almost always be less expensive than carpet replacement, making it a choice worthy of consideration. 
Are Chem-Dry products safe for kids and pets?
All of the ingredients in Johnson County Chem-Dry's primary cleaner, The Natural, are on the F.D.A.'s G.R.A.S. (Generally Recognized as Safe) list and are safe for your carpets, your home and your family. The Natural does not contain any soaps or harsh chemicals, and it provides a superior carpet cleaning.
How do you remove pet urine odor from carpet?
Pet odors can linger in your carpets and rugs for months if not treated properly. As urine dries in the carpet and padding, it crystallizes, leaving behind millions of concentrated urine crystals that off-gas and become even more pungent. Many companies just mask this odor by diluting the urine with water, or by simply deodorizing the area. Johnson County Chem-Dry uses a patented system, P.U.R.T.® (Pet Urine Removal Treatment) to explode the urine crystals and break down the enzymes, eliminating the pet urine odor forever.  
Chem-Dry vs Steam Cleaning your Carpet
While carpet steam cleaners use excessive amounts of water that often soaks through to the carpet backing and creates a breeding ground for mold and mildew, Johnson County Chem-Dry's low-moisture carpet cleaning process doesn't carry the same risk and offers a safer and more convenient carpet cleaning solution. Plus, your carpets dry in just a few hours, not 1-2 days like with typical steam carpet cleaning, and your carpet stays cleaner longer because there is no soapy residue left behind.  For more information, visit Chem-Dry vs Steam Cleaners
Does Chem-Dry support shelter pet adoption?
Johnson County Chem-Dry is raising funds for Best Friends Animal Society® to encourage shelter pet adoption and support no-kill animal shelters across the country.  Best Friends Animal Society has been building effective programs to save animals for over 30 years. Before they began, nearly 17 million animals were killed in shelters every year. Today, that number is down to about 4 million. Best Friends is committed to working hard every day until that number reaches zero.
How often should I have my carpet professionally cleaned?
Industry experts suggest that homeowners and business owners professionally clean their carpets every 3-6 months especially homes with heavy traffic, kids, pets or if someone in your home has asthmas or allergies. Regular carpet cleaning will not only improve your home's appearance, but it will eliminate germs and allergens, improve your home's indoor air quality and extend the life of your carpet.
---
Johnson County Chem-Dry is a proud member of the Indoor Air Quality Association!  We're committed to providing superior solutions and services that you can trust to keep your home clean, safe and healthy. Using a green-certified solution and our proprietary Hot Carbonating Extraction cleaning method, we are able to deliver a deeper, longer lasting clean that leaves you with peace of mind and a healthier environment for your family.
We service all of Johnson County, TX including the following cities:  Mansfield, Burleson, Cleburne, Joshua, Grandview, Keene, Godley, Alvarado, Rio Vista, Crowley, Briaroaks, Cross Timber, Rendon, Lillian, Sand Flat, Cresson, Venus, Egan, and Liberty Chapel.  We have also expanded into Hood County and we are providing carpet, tile, wood floors, rug and upholstery cleaning in Granbury, Pecan Plantation, and DeCordova, Texas.
When you choose Johnson County Chem-Dry, you get a deeper clean, faster-drying carpets and a healthier home for you and your family.
Chem-Dry has become a trusted name in carpet cleaning for thousands of households, cleaning in more than 10,000 households daily worldwide and more than 1 billion square feet of carpet every year, and for good reason. We use a unique Hot Carbonating Extraction (HCE) process to deliver a deeper, longer-lasting carpet cleaning combined with a green-certified solution that is all natural and safe for your kids and pets. This means you get a clean that is healthier for you, your family and your home.
We promise to treat your home, your family and your pets with the courtesy and care you deserve. Our friendly, professionally-trained technicians understand that getting ready to have your carpets cleaned is a big deal, and they take pride in delivering superior, healthier results for your family and your home.
Read our helpful tips on how to prepare for a carpet cleaning appointment with Johnson County Chem-Dry.
Carpet Cleaning
Rated
5
/5 Stars
★★★★★
based on
401 Customer Reviews
LEARN MORE
A Healthier Home
Chem-Dry's mission is helping people live healthy lives starting with clean carpets and a healthy home. Our proprietary Hot Carbonating Extraction cleaning process penetrates deep into the fibers, removing an average of 98% of common household allergens from carpets and upholstery.
Our green-certified solution, The Natural®, contains no dirt attracting soaps or detergents so it's safe and non-toxic for your family & pets. And, Chem-Dry uses 80% less water than typical steam cleaning so carpets dry in hours instead of days, making it the safer and more convenient carpet cleaning choice. All of this means Chem-Dry cleans for your health like no one else.
LEARN MORE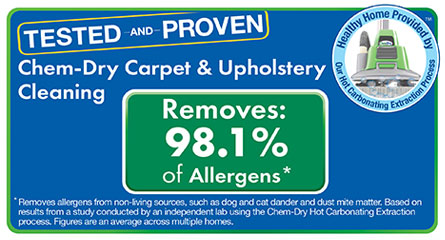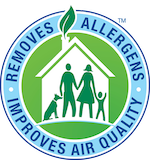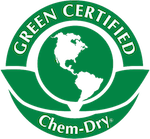 Get a Free Quote Today!
Click below to access our form and provide us with your contact information and any other information about your needs. We'll contact you soon to schedule an in-home appointment so you'll be on your way to a cleaner, healthier home!