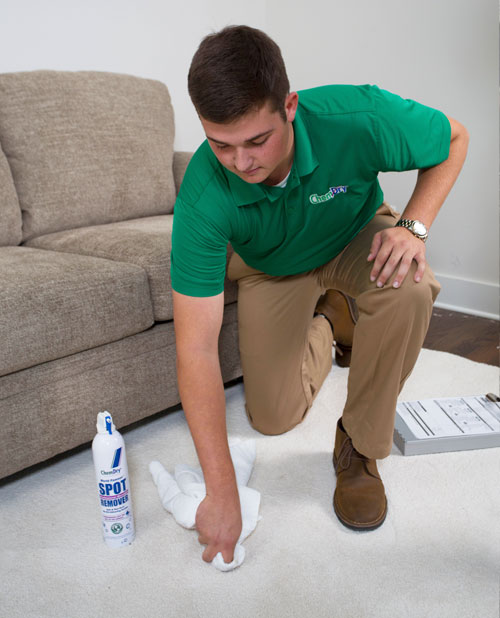 Professional Specialty Stain Removal
The Stain Removal Experts
If you have kids or pets eventually you are going to need to deal with stains on your carpet, rugs or furniture. Even if you don't have children or animals roaming your home, stains are a part of life. When you come face-to-face with a tough stain in your carpet or upholstered furniture don't worry, the pros at Johnson County Chem-Dry have just the solution for eliminating the staunchest of blemishes.
Most spills and spots are easily removed with Johnson County Chem-Dry's basic cleaning. However, occasionally, difficult stains such as paint, lipstick, permanent marker, etc. require special treatment.
Our professionally trained technicians are equipped with state-of-the-art products that can take care of virtually all spots and stains with our Specialty Stain Removal service. Using an arsenal of safe and effective stain removal products with the most innovative equipment, Johnson County Chem-Dry can knock tough stains out of carpets, rugs and upholstery for good. That's why we say "If we can't get it out, no one can."
Chem-Dry's professional carpet cleaners and upholstery cleaners can help get out the toughest stains including ones that other cleaning companies won't touch, such as:
Food stains (chocolate, jelly, ketchup)
Blood
Pet Accidents
Dirt and Mud
Tomato Juice, Soda, Kool-Aid
Grass
Wine
Coffee
And many more!
Preventing Stains Before They Occur with Stain Protection
For a more proactive and preventive solution to battling stains before they ever occur, consider Johnson County Chem-Dry's Stain Protectant Package. We offer a tried and tested solution for carpets, rugs and upholstered furniture.
Our versatile stain protectant solution works by forming a strong defensive layer around fabric fibers, repelling most liquids and stain-causing agents, stopping stains in their tracks before they can do their damage.
A stain can be a real eyesore and can weigh on your mind, especially for those who take pride in and derive a lot of happiness from maintaining a clean, beautiful home. The best way to keep a stain from making itself a permanent resident on carpets and upholstered furniture is a speedy attack. The longer a stain sits the more likely it is to set in.  When you spot a tough stain in your home, give Johnson County Chem-Dry a call to knock it out.
Johnson County Chem-Dry is a proud member of the Indoor Air Quality Association!  We're committed to providing superior solutions and services that you can trust to keep your home clean, safe and healthy. Using a green-certified solution and our proprietary Hot Carbonating Extraction cleaning method, we are able to deliver a deeper, longer lasting clean that leaves you with peace of mind and a healthier environment for your family.
Chem-Dry professional technicians can remove most any stain. Armed with an arsenal of the industry's finest stain-removal products and tools, Chem-Dry can remove, or minimize all types of stains.
Your best chance for removing a stain is as quickly as possible after the spot is made. The longer a spot sits on the carpet or upholstery, the harder it becomes to remove. While most stains can be removed, some require advanced technical skill and expert cleaning solutions. Chem-Dry leads the industry in products and solutions, helping you win the battle against tough stains.
Chem-Dry technicians are willing to try and remove any stain. We have had success removing spots such as: berries, soda, juice, blood, candy, nail polish, coffee, honey, Kool-Aid, jelly, mud, lipstick, Ketchup, marker, rust, throw-up, urine, wine and many others. Each stain is somewhat unique, but our staff is expertly armed to battle even the toughest stains.
"If we can't get it out. No one can." Your Chem-Dry professional is prepared with tools to remove virtually any stain. Our technician will prepare an on-site evaluation for any stains and provide a no-obligation estimate.
From ink to wine and coffee, glues or other seemingly permanent damage, you can trust Chem-Dry to remove those stains. Call today to learn more.
We service all of Johnson County, TX including the following cities:  Mansfield, Burleson, Cleburne, Joshua, Grandview, Keene, Godley, Alvarado, Rio Vista, Crowley, Briaroaks, Cross Timber, Rendon, Lillian, Sand Flat, Cresson, Venus, Egan, and Liberty Chapel.  We have also expanded into Hood County and we are providing carpet, tile, rug and upholstery cleaning in Granbury, Pecan Plantation, and DeCordova, Texas.
Take a look at some of our many comments from happy customers in our Local Reviews.
Check in often to Read our Blog!
We are honored and humbled to be recognized by Harris Research Incorporated as a Finalist for Best of State 2022 for Exceptional Customer Service in our local Carpet and Tile Cleaning Business! We love our customers! Without you, this would not be possible. Thank you from the bottom of our hearts!