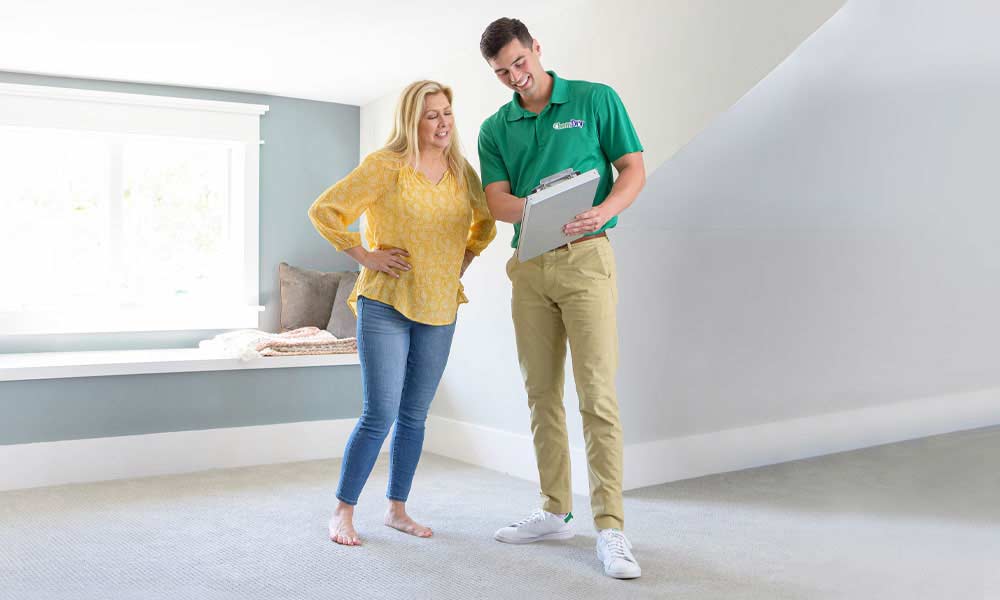 Professional Carpet Care Tips
Keeping your home healthy starts with clean carpets. Johnson County Chem-Dry is your best choice in the area for carpet cleaning because we specialize in providing a deeper, longer-lasting clean with healthier results. Between cleanings, here are some great tips to care for your carpet.
Professionally clean rugs, carpets and upholstery.
 If you really want to deep clean your carpets, rugs and upholstery and eliminate the dirt and germs that have accumulated over the winter months, call the experts at Johnson County Chem-Dry. Johnson County Chem-Dry uses a green-certified solution that's safe and non-toxic for kids and pets and a low-water, carbonating cleaning process  that will give your surfaces and your home a deep-down, healthier clean. And be sure to ask about our premium Healthy Home package, which includes sanitizing your carpets and upholstery to reduce the unhealthy bacteria that may have collected. Since Johnson County Chem-Dry uses 80% less water than typical steam cleaning, you'll love the convenience of our speedy dry times - just a couple of hour rather than a couple of days - and not having the mold and mildew growth that can come from the excessive water used by steam cleaners.  
Industry experts suggest that homeowners clean their carpets every 3-6 months especially homes with kids, pets or if someone in your home has asthma or allergies. Regular cleaning will not only improve your home's appearance, but it will eliminate germs and allergens, improve your home's indoor air quality and extend the life of your carpeting.
Thoroughly dust your home and clean or replace air conditioning and heating filters; clean all ducts and vents to decrease your exposure to pollen and other airborne allergens.
Remove mold and mildew in moist areas of the home. Mold is a fungus that can spark allergic  reactions for many people and spring is a tough time of year for anyone with allergies of any kind. Use non-toxic cleaning products and make sure bathrooms, laundry rooms, and kitchens are free of unhealthy mold.
Don't forget the tile, stone and grout. High traffic areas collect months of winter dirt and germs, and most weekly cleanings don't do the job when it comes to giving these surfaces a thorough, healthy cleaning. The grout between tiles and stone can be the toughest to get clean. While Johnson County Chem-Dry is taking care of your carpets, area rugs and upholstery, ask them to also give your tile, stone and grout a professional cleaning to eliminate stains and bacteria from these extremely porous surfaces and start spring off on a healthier foot.
We are honored and humbled to be recognized by Harris Research Incorporated as a Finalist for Best of State 2023 for Exceptional Customer Service in our local Carpet and Tile Cleaning Business! We love our customers! Without you, this would not be possible. Thank you from the bottom of our hearts!
3 Steps for Proper Carpet Care
Understanding the best way to clean carpets will help you save time and money. Not only will you save time by doing the job right the first time, but you'll also lessen the risk of damage to your carpets.
When it comes to carpet care tips, homeowners can turn to the Carpet & Rug Institute (CRI). The CRI is dedicated to helping you keep your carpets clean, healthy, and in good condition for as long as possible.
Below are three simple steps from the CRI that you can take to maintain your carpets between cleanings:
Vacuum regularly at the right frequency with a CRI Seal of Approval certified vacuum.

Clean spots and spills quickly with products that do not damage the carpet or cause it to re-soil more quickly.

Professionally deep clean your carpets at least every 12 to 18 months to remove deep-down, embedded dirt and grime. For premium cleaning benefits, ask about our 6-month cleaning programs.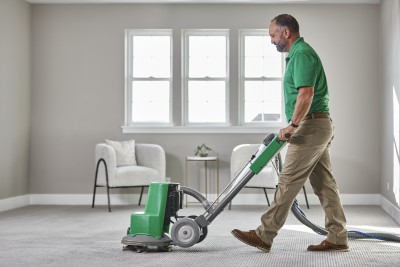 To help consumers make informed decisions, The Carpet & Rug Institute also scientifically measures cleaning efficacy. The CRI awards its seal of approval to products and equipment that effectively remove soil without damaging the carpet.
Looking for this seal of approval will not only ensure that you choose methods that will keep your carpet looking great, but also help meet the warranty requirements of most carpet manufacturers.
Stop Dirt at the Door
Preventing dirt and grime from getting on the carpet to begin with goes a long way in helping to keep your carpets clean. These helpful hints can stop dirt at the door:
Use mats: Outdoor and indoor mats or runners can reduce the amount of dirt that enters and spreads in the house.

Take off your shoes: You can prevent added wear and tear on carpet by asking everyone to remove their shoes before entering your home.
Change your air filters: Regularly change the air filters in your heating and air-conditioning systems as recommended in the manufacturer's directions. The more efficiently an air filter can remove dust and particles from the air, the less there will be to fall on carpets and other surfaces in your home.
When it's time to clean again remember, with Johnson County Chem-Dry's proprietary Hot Carbonating Extraction process, we clean for your health like no one else. Call today for a free quote.
We service all of Johnson County, TX including the following cities:  Carpet Cleaning Mansfield, Carpet Cleaning Burleson, Carpet Cleaning Cleburne, Carpet Cleaning Joshua, Carpet Cleaning Grandview, Carpet Cleaning Keene, Carpet Cleaning Godley, Carpet Cleaning Alvarado, Carpet Cleaning Rio Vista, Carpet Cleaning Crowley, Carpet Cleaning Cross Timber, Carpet Cleaning Rendon, Carpet Cleaning Lillian, Carpet Cleaning Sand Flat, Carpet Cleaning Cresson, Carpet Cleaning Venus, Carpet Cleaning Egan, and Carpet Cleaning Liberty Chapel.  We have also expanded into Hood County and we are providing carpet, tile, rug and upholstery cleaning with Carpet Cleaning Granbury, Carpet Cleaning Pecan Plantation, and Carpet Cleaning DeCordova, Texas.
Take a look at some of our many comments from happy customers in our Local Reviews.
Johnson County Chem-Dry is a proud member of the Indoor Air Quality Association!  We're committed to providing superior solutions and services that you can trust to keep your home clean, safe and healthy. Using a green-certified solution and our proprietary Hot Carbonating Extraction cleaning method, we are able to deliver a deeper, longer lasting clean that leaves you with peace of mind and a healthier environment for your family.
Check in often to Read our Blog!
Average

5.0

Stars
Based on

411

Reviews
Get Your Free Quote Today!
Contact us to schedule a free, no-obligation appointment with one of our Professional Technicians. We'll do a thorough inspection and provide you with a quote for our services including our Healthy Home Package. We are proud to be your Healthy Home Provider!