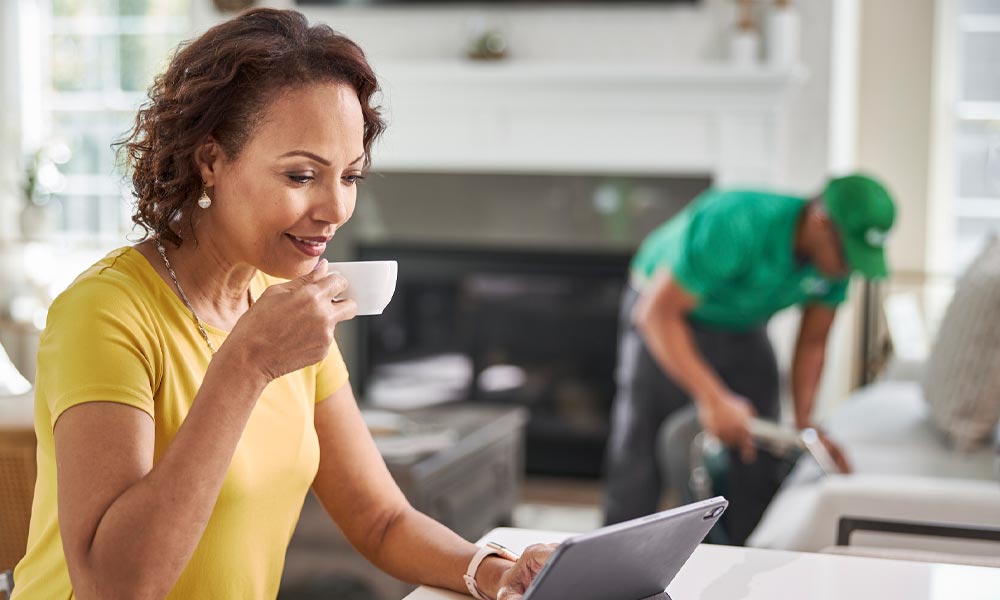 Local Professional Carpet and Tile Cleaning Services with Guaranteed Odor Removal
Johnson County Chem-Dry is Platinum Certified by The Carpet and Rug Institute as a Approved Carpet and Rug Cleaning Service Provider under the CRI's Seal of Approval Program. We are the ONLY Platinum Certified, Bonded, and Insured, Carpet Cleaner in Johnson County, Tx. We provide Green Certified, Kid Safe, Pet Safe Carpet Cleaning that Dries in 1-2 hours!
We are honored and humbled to be recognized by Harris Research Incorporated as a Finalist for Best of State 2023 for Exceptional Customer Service in our local Carpet and Tile Cleaning Business! We love our customers! Without you, this would not be possible. Thank you from the bottom of our hearts!
Johnson County Chem-Dry is a proud member of the Indoor Air Quality Association!  We're committed to providing superior solutions and services that you can trust to keep your home clean, safe and healthy. Using a green-certified solution and our proprietary Hot Carbonating Extraction cleaning method, we are able to deliver a deeper, longer lasting clean that leaves you with peace of mind and a healthier environment for your family.
Why Chem-Dry for Carpet, Tile, Wood,  Rug and Upholstery Cleaning
At Johnson County
Chem-Dry, we understand that when you call a
carpet cleaning service
, you're looking for more than just a basic cleaning that removes the top level of dirt from your carpets. You're looking for a service you can trust to get out the tough, deep-down grime in your carpets, that has a safe and healthy process and that will give you the peace of mind of having a truly clean, refreshed, healthy home. That's why Chem-Dry's mission is to provide exceptional customer service and a deeper, longer lasting, healthier clean that will leave your home cleaner and safer and you and your family happier.
Chem-Dry Delivers a Deeper, Safer Carpet Cleaning That's Healthier for Your Family
The Chem-Dry cleaning process was founded on the idea that there had to be a healthier, more effective way to clean carpets with less negative environmental impact than traditional steam cleaning. We solved this problem by developing The Natural® -- a green-certified, safe and non-toxic cleaning solution – along with a unique delivery system that are the foundation of our Hot Carbonating Extraction process and that deliver an unmatched carpet cleaning experience. This process relies on the deep-cleaning power of carbonation and uses 80% less water than typical steam cleaning, which greatly reduces dry times and the risk of mold and mildew that excess water can cause. The result is a deeper, longer lasting, faster drying clean and the peace of mind of having a healthier home for you and your family.
Carpets Dry in only 1-2 Hours
When you use less water, carpets simply dry faster. Instead of using gallons of water like typical steam cleaning, Johnson County Chem-Dry uses only a fraction of the water. This low-moisture process combined with our natural carbonating cleaning solution penetrate deep into carpets and not only leaves carpets cleaner, but reduces dry times to a couple hours rather than a couple of days. So you and your family can get back to enjoying life in your cleaner, healthier home more quickly.
A Deeper Carpet Cleaning
Johnson County Chem-Dry's goal is to help you spend less time worrying about whether your carpets and furniture are clean and safe and more time enjoying your family in a healthy home. Johnson County Chem-Dry uses a specially designed,
green-certified cleaning
solution that employs the bubbly
properties of carbonation
to penetrate deep into your carpet, breaking up dirt and grime and lifting it to the surface similar to the way club soda removes stains from a shirt. We then follow up with state-of-the-art equipment using our unique amplified heat extraction process to pull the dirt and water from your carpet, leaving behind a truly deep-down clean.
Steam cleaning
and other carpet cleaners that use soapy water and chemicals often leave behind a sticky residue that can attract dirt, resulting in your carpets getting dirty again faster and requiring more frequent professional cleanings. Since it doesn't contain any soaps, detergents or harsh chemicals, Chem-Dry's core cleaner,
The Natural
, does not attract dirt so your carpets stay cleaner longer.
A Healthier Home
Johnson County Chem-Dry offers a healthier clean on two levels: first, our products are safe for your entire family and second, by using less water we are helping combat mold and mildew growth in and under your carpet.
Chem-Dry has an extensive catalog of
green-certified carpet cleaning products
, including our primary cleaning solution, The Natural.
The Natural, which is on the FDA's G.R.A.S. (Generally Recognized As Safe) list, contains zero phosphates or detergents and is completely safe and non-toxic for kids and pets.
Unlike Johnson County Chem-Dry's process, typical
steam cleaning
not only utilizes harsh soaps and chemicals to clean your carpets, but uses a heavy amount of water that often soaks through to the carpet backing, creating a breeding ground for mold, mildew and bacteria. By taking a tip from Mother Nature, Chem-Dry uses a carbonating cleaning process that will leave your carpets and upholstery cleaner and helps promote a healthier home for you and your family. Thanks to our low-moisture, amplified hot carbonating extraction system, we can offer you a deeper, healthier carpet and
upholstery cleaning
that you can feel confident is safe for your kids and pets.
Since 1977 Chem-Dry has been dedicated to helping families live more healthfully … because a clean home is a happy, healthy home. Choose
 Johnson County 
Chem-Dry
for a healthier carpet and upholstery cleaning and a safer, refreshed home that the whole family an enjoy.
We Provide a Deeper Clean for a Healthier Home
Did you know that your carpets and upholstery can help filter the air inside your home? Carpet and upholstery fibers act like giant air filters. They collect dirt and allergens, keeping them out of the air you breathe. But just like any air filter, they need to be cleaned to remain optimally effective.
The Chem-Dry Hot Carbonating Extraction cleaning process utilizes the natural power of carbonation to deliver a deeper carpet cleaning. Our process sends millions of tiny bubbles deep into your carpet fibers to lift dirt and grime to the surface where it is then whisked away. Our cleaning method is proven to remove 98.1% of common allergens, like pet dander and dust mite matter, from carpets and upholstery
Learn more about our deep carpet cleaning process.
We're Experts at Removing Pet Urine & Odor
We all love our pets, but their accidents can make it a challenge to keep your home clean and smelling fresh. Chem-Dry carpet cleaners are experts at removing pet urine stains and pet urine odors. Other carpet cleaners simply mask the odors with another fragrance, but Chem-Dry is different.
Our revolutionary Pet Urine Removal Treatment (P.U.R.T.® for short) works deep in your carpet fibers by attacking the source of the odors and causing a chemical reaction that destroys pet urine odors for good. It's been tested and proven to remove 99.9% of pet urine odors from carpets*.
Learn more about our P.U.R.T. service.
Chem-Dry Carpet Cleaning vs. Steam Cleaning
You've probably heard of steam cleaning and may have even considered renting a steam cleaning machine for DIY carpet cleaning. But at Chem-Dry, we know that's not the best choice.
Steam cleaning typically drenches your carpets with buckets of hot, soapy water using very high pressure. This large amount of water can take days to dry, which can create an ideal environment for mold and mildew to grow at the base of your carpet. Even worse, soapy detergents can leave a sticky residue that actually attracts dirt and causes carpets to get dirty again more quickly.
The Chem-Dry Hot Carbonating Extraction process is different. First, we use around 80% less water than steam cleaning. This means your carpets will dry in just hours, not days! Our core cleaning solution, called The Natural®, is free from soapy detergents and doesn't leave a dirt-attracting residue, which means your carpets will stay cleaner, longer.
Learn more about Chem-Dry vs Steam Cleaning
We Can Eliminate Carpet Stains for Good
If you have kids or pets, you know that carpet stains are inevitable. But you don't have to battle them alone, the stain removal experts at Chem-Dry can help! There's a reason we say "if we can't clean it, no one can!"
Our innovative Hot Carbonating Extraction cleaning process is gentle on carpet fibers, yet powerful enough to tackle most spills and spots. For stubborn stains, like those from permanent marker or lipstick, our professional carpet cleaners have an arsenal of safe and effective stain removal products that can knock out virtually any stains for good.
Learn more about our specialty stain removal service
Chem-Dry Green Certified Cleaning Products
Promoting a healthy household and a sustainable environment is at the forefront of what we do at Chem-Dry – from our proprietary low-moisture Hot Carbonating Extraction cleaning process to our Chem-Dry Green Certified solutions. It's our goal to offer customers a safer, healthier option when it comes to professional carpet and upholstery cleaning.
That's why we created the Chem-Dry Green Certified program. Through this internal certification process, we evaluate our products and assess them against strict qualifications. Over 40 of our products are Chem-Dry Green Certified, including our core carpet cleaning solution called The Natural®.
Learn more about our Chem-Dry Green Certified products.
From carpets, rugs, and upholstery to tile, stone, grout and granite counter tops, Johnson County Chem-Dry offers the best cleaning for you. Call today for a free quote.
Serving Johnson County TX for 30+ Years!
We are your local Pet Urine Removal Experts! We eliminate 99.9% of odors and 99.2% of bacteria from Pet Deposits, leaving your carpets fresh and healthy! We also provide Tile and Grout Cleaning and Sealing, as well as, Area Rug Cleaning, Upholstery Cleaning, Mattress Cleaning, Granite Counter top Cleaning and Renewal. Johnson County Chem-Dry is locally owned and operated in Johnson County, Texas and has been cleaning carpets here for over 30 years.
We service all of Johnson County, TX including the following cities:  Carpet Cleaning Mansfield, Carpet Cleaning Burleson, Carpet Cleaning Cleburne, Carpet Cleaning Joshua, Carpet Cleaning Grandview, Carpet Cleaning Keene, Carpet Cleaning Godley, Carpet Cleaning Alvarado, Carpet Cleaning Rio Vista, Carpet Cleaning Crowley, Carpet Cleaning Cross Timber, Carpet Cleaning Rendon, Carpet Cleaning Lillian, Carpet Cleaning Sand Flat, Carpet Cleaning Cresson, Carpet Cleaning Venus, Carpet Cleaning Egan, and Carpet Cleaning Liberty Chapel.  We have also expanded into Hood County and we are providing carpet, tile, rug and upholstery cleaning with Carpet Cleaning Granbury, Carpet Cleaning Pecan Plantation, and Carpet Cleaning DeCordova, Texas.
Check in often to Read our Blog!
Take a look at some of our many comments from happy customers in our Local Reviews.
Get Your Free Quote Today!
Contact us to schedule a free, no-obligation appointment with one of our Professional Technicians. We'll do a thorough inspection and provide you with a quote for our services including our Healthy Home Package. We are proud to be your Healthy Home Provider!