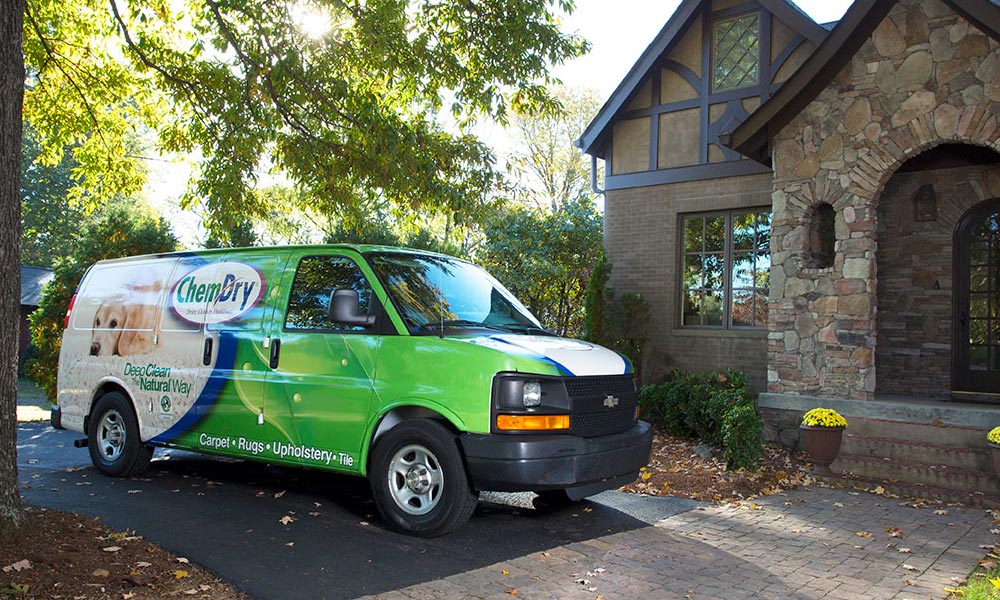 About Johnson County Chem-Dry, Carpet and Tile Cleaning
We are so proud to receive national recognition for our efforts Mentoring other franchises in providing superior customer service and satisfaction at all levels. We are blessed and we are honored to share that with others!
Johnson County Chem-Dry's mission is helping people live healthy lives, which starts with clean carpets and a healthy home. Our proprietary hot carbonating extraction cleaning process penetrates deep into the fibers, removing an average of 98% of common household allergens from carpets and upholstery and 89% of the airborne bacteria in your home when a sanitizer is added.* Plus, our green-certified solution, The Natural®, contains no soaps or detergents so it's safe and non-toxic for your family & pets. And, Johnson County Chem-Dry uses 80% less water than typical steam cleaning so carpets dry in hours instead of days, making it the safer and more convenient carpet cleaning choice. All of this means Johnson County Chem-Dry cleans for your health like no one else.
Chem-Dry is the world's leading carpet cleaner, but we also offer cleaning of upholstery, tile and grout, and area rugs too.
We are honored and humbled to be recognized by Harris Research Incorporated as a Finalist for Best of State 2023 for Exceptional Customer Service in our local Carpet and Tile Cleaning Business! We love our customers! Without you, this would not be possible. Thank you from the bottom of our hearts!
Johnson County Chem-Dry is a proud member of the Indoor Air Quality Association!  We're committed to providing superior solutions and services that you can trust to keep your home clean, safe and healthy. Using a green-certified solution and our proprietary Hot Carbonating Extraction cleaning method, we are able to deliver a deeper, longer lasting clean that leaves you with peace of mind and a healthier environment for your family.
About Us
It is such an honor to be featured on BizTV! "All In" with Bryan Weatherford! Great boost for our small town Carpet and Tile cleaning business!! Many thanks to Bryan Weatherford and Biz TV!!
Carpet, Tile, Rug & Upholstery Cleaning
Johnson County Chem-Dry is Certified Platinum by The Carpet and Rug Institute as a Approved Carpet and Rug Cleaning Service Provider under the CRI's Seal of Approval Program. We are the ONLY Certified, Bonded, and Insured, Carpet Cleaner in Johnson County, Tx. We provide Green Certified, Kid Safe, Pet Safe Carpet Cleaning that Dries in 1-2 hours! 
Serving Johnson County TX for 30+ Years!
We are your local Pet Urine Removal Experts! We eliminate 99.9% of odors and 99.2% of bacteria from Pet Deposits, leaving your carpets fresh and healthy! We also provide Tile and Stone Cleaning and Sealing, as well as, Area Rug Cleaning, Upholstery Cleaning, Mattress Cleaning, Granite Countertop Cleaning and Renewal. Locally owned and operated in Johnson County, Tx for 30+ years.
We service all of Johnson County, TX including the following cities:  Carpet Cleaning Mansfield, Carpet Cleaning Burleson, Carpet Cleaning Cleburne, Carpet Cleaning Joshua, Carpet Cleaning Grandview, Carpet Cleaning Keene, Carpet Cleaning Godley, Carpet Cleaning Alvarado, Carpet Cleaning Rio Vista, Carpet Cleaning Crowley, Carpet Cleaning Cross Timber, Carpet Cleaning Rendon, Carpet Cleaning Lillian, Carpet Cleaning Sand Flat, Carpet Cleaning Cresson, Carpet Cleaning Venus, Carpet Cleaning Egan, and Carpet Cleaning Liberty Chapel.  We have also expanded into Hood County and we are providing carpet, tile, rug and upholstery cleaning with Carpet Cleaning Granbury, Carpet Cleaning Pecan Plantation, and Carpet Cleaning DeCordova, Texas.
Take a look at some of our many comments from happy customers in our Local Carpet Cleaning Reviews.
Check in often to Read our Blog!

Average

5.0

Stars
Based on

411

Reviews
Get Your Free Quote Today!
Contact us to schedule a free, no-obligation appointment with one of our Professional Technicians. We'll do a thorough inspection and provide you with a quote for our services including our Healthy Home Package. We are proud to be your Healthy Home Provider!