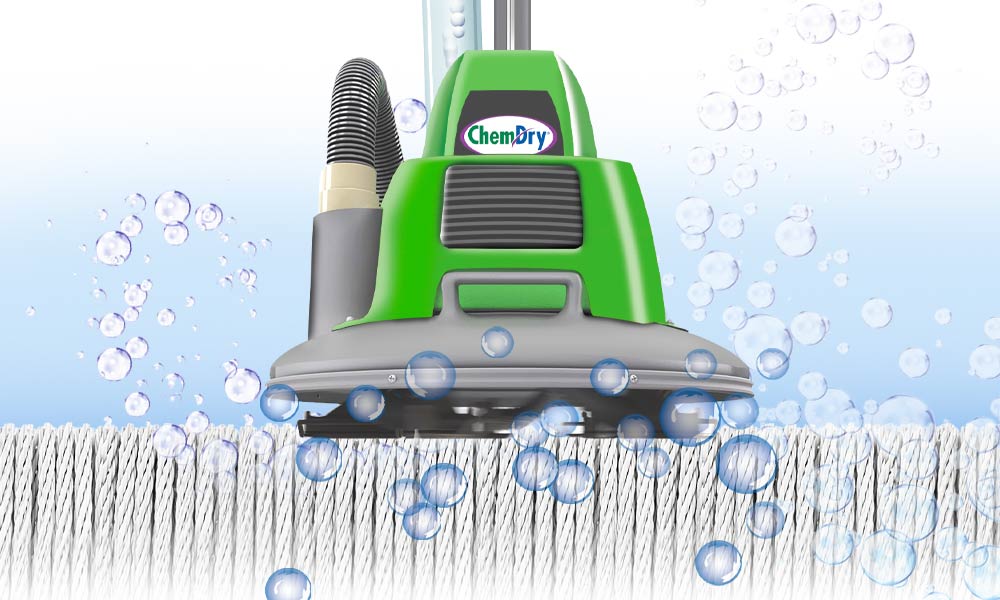 The Power of Carbonation Professional Carpet Cleaning
When you're looking for the best carpet and upholstery cleaning service in the area, you can count on us. We use the power of carbonation to deep-clean your carpets and give you longer lasting, healthier cleaning for your carpets and upholstery. Why do we use carbonation to clean? Here is the secret.
One of the reasons people choose Chem-Dry over other services is for the peace of mind of knowing we offer a healthier, safer carpet cleaning experience. Chem-Dry utilizes the natural cleaning power of carbonation to release and lift dirt and grime from deep within your carpets so they can be whisked away with our powerful extraction equipment for a clean that lasts.
Similar to the way club soda removes stains from a shirt, we've evolved and adapted the use of carbonation into a superior carpet and upholstery cleaning process. Chem-Dry uses the power of carbonating solutions to lift the dirt, dust and other allergens to the surface where they can be easily removed without using the excessive amounts of water other methods like steam cleaning use. With Chem-Dry, carpets dry faster, reducing the risk of harmful bacteria growing underneath your carpet.
Carbonation Leads to a Longer Lasting Clean
Carbonation isn't just for fizzy drinks anymore. Johnson County Chem-Dry's process uses millions of tiny bubbles to penetrate the carpet fibers, dissolve dirt and stains quickly, and act as tiny propellants that actually lift dirt to the surface for extraction. Because the bubbles do most of the work for us, Johnson County Chem-Dry does not need to use heavy amounts of water or soapy chemicals that other cleaners rely on to get your carpets clean. When soapy residues are left behind they attract dirt like a magnet, causing your carpet to get dirty again faster and requiring more frequent professional cleanings.
Chem-Dry's Core Cleaning Solution is Safe and Non-Toxic
Johnson County Chem-Dry's revolutionary carpet cleaning process uses carbonation and ingredients copied from Mother Nature for its core carbonating cleaning solution, The Natural. It's called The Natural not just because it has an innate knack for getting out the toughest stains, but because it is made from ingredients whose equivalent can be found in nature. This carbonated cleaning solution is green and clean, requires less water than typical steam cleaning and works harder than most chemical-based carpet cleaners because it literally explodes the dirt and grime off of the carpet fiber surface. And because The Natural does not contain any soaps, detergents or any other harsh chemicals, so no soapy residues are left behind to attract dirt.
With Johnson County Chem-Dry, carpets not only get cleaner, they stay cleaner longer. And you save money when your carpet stays cleaner longer because fewer cleanings means better value for your carpet cleaning investment. It also brings peace of mind from knowing that you and your family are living in a cleaner, healthier home.
If you would like more information about Johnson County Chem-Dry's Green cleaning solution, The Natural, and other Green-Certified cleaning products, please visit our Green Cleaning page.
The Carbonating Secret Revealed
The Chem-Dry cleaning process was inspired when our founder, Robert Harris, saw how quickly club soda removes food stains from clothing. Carbonation not only removed the stains — it removed them without leaving soapy residues behind.
The secret behind the Chem-Dry cleaning method is our core cleaning solution, called The Natural®. This product harnesses the natural cleaning power of carbonation to deep clean carpets and upholstery.
When applied, The Natural® releases millions of microscopic, carbonating cleaning bubbles into your carpet. The carbonated bubbles penetrate deep into the base of the carpet, literally exploding the dirt and grime off of the surface of the fibers. The particles of dirt and grime are then lifted to the surface where they are whisked away by our powerful extraction equipment.
Carpets That Stay Cleaner Longer
Due to the natural power of carbonation, Chem-Dry does not have to use excessive amounts of moisture to deliver a deep clean to your carpet and upholstery. Because the bubbles do the work for us, we don't need to use the soapy cleaning chemicals that other cleaners so often rely on. Those soapy residues attract dirt like a magnet, which often causes your carpets to get dirty again shortly after a cleaning.
Our core cleaning solution, The Natural, contains no soaps, detergents, or surfactants. When your carpet stays cleaner longer and requires less frequent professional cleanings, you'll save money!
Reappearing Carpet Stains? No Problem with Chem-Dry
Carpet stains that reappear after cleaning are incredibly frustrating. There are two common reasons why this happens. One reason is that they were never thoroughly removed to begin with. Often the unwanted material causing the stain is forced down below the surface of the carpet by a high-pressure steam cleaning unit, only to resurface as the carpet dries. Another reason is that the cleaning solution used by many steam cleaners can create a sticky residue that attracts new dirt and grime to the same location as the old stain.
Through our use of carbonation, Chem-Dry thoroughly removes stains quickly and efficiently. We apply our solutions sparingly, and without high pressure or excessive water, so that resurfacing stains are not usually a problem. However, in the rare instances where a spot does reappear, we will too until the problem is solved.
We are honored and humbled to be recognized by Harris Research Incorporated as a Finalist for Best of State 2023 for Exceptional Customer Service in our local Carpet and Tile Cleaning Business! We love our customers! Without you, this would not be possible. Thank you from the bottom of our hearts!
We service all of Johnson County, TX including the following cities:  Carpet Cleaning Mansfield, Carpet Cleaning Burleson, Carpet Cleaning Cleburne, Carpet Cleaning Joshua, Carpet Cleaning Grandview, Carpet Cleaning Keene, Carpet Cleaning Godley, Carpet Cleaning Alvarado, Carpet Cleaning Rio Vista, Carpet Cleaning Crowley, Carpet Cleaning Cross Timber, Carpet Cleaning Rendon, Carpet Cleaning Lillian, Carpet Cleaning Sand Flat, Carpet Cleaning Cresson, Carpet Cleaning Venus, Carpet Cleaning Egan, and Carpet Cleaning Liberty Chapel.  We have also expanded into Hood County and we are providing carpet, tile, rug and upholstery cleaning with Carpet Cleaning Granbury, Carpet Cleaning Pecan Plantation, and Carpet Cleaning DeCordova, Texas.
Johnson County Chem-Dry is a proud member of the Indoor Air Quality Association!  We're committed to providing superior solutions and services that you can trust to keep your home clean, safe and healthy. Using a green-certified solution and our proprietary Hot Carbonating Extraction cleaning method, we are able to deliver a deeper, longer lasting clean that leaves you with peace of mind and a healthier environment for your family.
When you are looking for the best carpet cleaning around, please think of us. Call today for a free quote.
Take a look at some of our many comments from happy customers in our Local Reviews.
Check in often to Read our Blog!
Average

5.0

Stars
Based on

411

Reviews
Get Your Free Quote Today!
Contact us to get your free quote and to schedule an in-home consultation today!