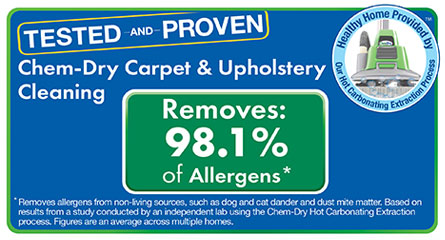 Chem-Dry's Commitment to the Environment with Green Certified Carpet Cleaning
People are more environmentally conscious today than they have ever been before. With Johnson County Chem-Dry's green carpet cleaning methods, you can rest assured that all care is being taken to look out for the planet. Johnson County Chem-Dry employs a specially formulated, natural eco carpet cleaning solution that contains no harmful chemicals while still giving your carpet the most thorough cleaning possible.
Promoting a healthy household and a sustainable environment is at the forefront of everything we do at Johnson County Chem-Dry – from our proprietary low-moisture cleaning process to our green-certified solutions. It is our goal to offer customers a cleaner, safer, and healthier option for your family when it comes to professional carpet, upholstery and area and Oriental rug cleaning.
Rather than harsh chemicals, Johnson County Chem-Dry prefers to use a natural carpet cleaner when taking care of your carpets and area rugs. This green-certified solution, The Natural®, allows us to provide a healthy eco carpet cleaning service while still achieving some of the best results on the market.
Not only does Johnson County Chem-Dry's natural, green carpet cleaning service use environmentally safe ingredients, but it uses 80% less water than traditional steam cleaning methods. That means there is less waste in the process, and that your carpet will be dry and ready to go in just hours. With other methods, you could be stuck waiting days for your carpet to dry.
We are honored and humbled to be recognized by Harris Research Incorporated as a Finalist for Best of State 2022 for Exceptional Customer Service in our local Carpet and Tile Cleaning Business! We love our customers! Without you, this would not be possible. Thank you from the bottom of our hearts!
The Greener Carpet Cleaner
For more than three decades, Johnson County Chem-Dry has been providing eco carpet cleaning, oriental rug cleaning, and upholstery cleaning services with minimal impact on the environment using our safe and non-toxic cleaning solution, The Natural®. Our green carpet cleaning process is copied from Mother Nature, so it refreshes and deep cleans your home's carpets without harsh chemicals. Our dedication to being green does not stop there. We use one-fifth the amount of water during our cleaning process than any competing steam carpet cleaner services. Johnson County Chem-Dry's eco carpet cleaning method not only reduces the impact on the environment, it ensures a healthier, greener home. Compare this to steam cleaners which require excessive amounts of water and harsh chemicals. The comparison will show that, between the two, Johnson County Chem-Dry is the more natural carpet cleaner.
Only Johnson County Chem-Dry Uses The Natural® Cleaner for a Deep Clean That's Also Green
Our 100% non-toxic, natural, patented carpet cleaner, The Natural®, is one of the purest carpet cleaning solutions available and is the heart of our cleaning process. The Natural® combines the perfect balance of Mother Nature's ingredients with carbonating bubbles that lift the dirt up out of your carpet, providing you with carpets that are cleaned thoroughly and safely. And because it contains no soaps, detergents, solvents, enzymes or other harsh chemicals, you can rest easy with Johnson County Chem-Dry's Natural solution which is safe for your kids and pets.
When dirt gets pushed down into your carpet, it gets ground down and clings to the fibers. Other carpet cleaners often rely on harsh solutions to dissolve the dirt or separate it from the carpet's fibers. Some of these solutions can leave behind a filmy residue or even be toxic to children and pets. Johnson County Chem-Dry's proprietary The Natural® carpet cleaning solution instead relies on millions of tiny bubbles which safely break apart the dirt particles and lift them up to the surface, where our technicians extract them with specialized machines. The entire process includes no caustic chemicals at all. When you're looking for a natural carpet cleaner, you can't beat The Natural®.
Our core cleaner, The Natural, is:
Green-certified

Ingredients are copied from Mother Nature

All ingredients in The Natural are on FDA G.R.A.S. (Generally Recognized as Safe) list

Safe and non-toxic for your kids and pets

Does not contain any harsh chemicals, soaps, detergents or phosphates

Does not leave behind sticky residue

Perfect solution for people with allergies
Johnson County Chem-Dry's Additional Green Certified Products
The Chem-Dry® Green Certified Program is specially designed and certifies that our patented core cleaning solution, The Natural®, together with several of our consumer cleaning products, are safe for humans, animals, water and contribute to a reduction in air pollution. The following Chem-Dry products meet the qualifications to be classified as Green-Certified:
Our goal is to provide our community with the safest, healthiest, cleaning possible.  For this reason, you want to choose us.  Our green carpet cleaning solutions are ideal for our community and are green certified.
Chem-Dry, The
Greener

Carpet Cleaner

You wouldn't add soaps, detergents, phosphates or other harsh chemicals to our air, lakes, streams or forests; so why add them to your carpets? At Chem-Dry, we believe in sustainability and have worked toward offering a Green solution to carpet cleaning for the past two decades.

Chem-Dry's flagship cleaning solution, The Natural®, is on the FDA's G.R.A.S. list; however, our dedication to Green doesn't stop there. We use one-fifth the amount of water during our cleaning process, ensuring a healthier, Greener home. Compare this to steam cleaners which require excessive amounts of water and harsh chemicals.
Green Cleaning
Several products meet the strict standards of the Chem-Dry Certified program, which examines a product's impact on people, pets and the environment.
The Natural
Stain Extinguisher
World Famous Spot Remover
Upholstery Rinse
Upholster Wet/Foam Cleaner
Carpet Deodorizer
Pet Odor Removal
Chem-Dry is continuously working toward advancements in Green carpet cleaning. Our commitment to sustainability is part of our mission to provide all people with a cleaner and more healthy living environment.

Health, Toxicity & Safety
Oral Toxicity : products do not include hazardous substances ingested through the mouth
Dermal Toxicity : products do not include poisonous substances that enter through skin contact
Inhalation Toxicity : products do not distribute harmful pollutants that are breathed in from the atmosphere
No Carcinogens : products do not include agents which increase the likelihood of cancer
Protection of Aquatic Life
High standards for biodegradibility and not bioaccumulate. Products must not damage our streams or Mother Earth.
Safety for Materials Contacted
The pH of the solution of the products must be no less than 3 and no greater than 10.
Clean Air Requirements
The solution must not contain damaging levels of Volatile Organic Compounds (VOCs).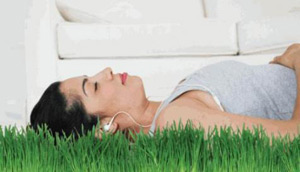 So why does Chem-Dry care so much about being Green? Well, simply put: Less water in your carpets means more in our nation's reservoirs. Non-toxic means Chem-Dry is safe for kids and pets and makes Chem-Dry the perfect (often, the only) solution for many people with allergies. We live here too and our mission is to help create healthier homes for a better world.
Now you know why Chem-dry is your best choice for cleaning your home.  We will help you make your home a happy, healthy, home using our green certified cleaning solutions. Call today for a free quote.
We service all of Johnson County, TX including the following cities:  Mansfield, Burleson, Cleburne, Joshua, Grandview, Keene, Godley, Alvarado, Rio Vista, Crowley, Briaroaks, Cross Timber, Rendon, Lillian, Sand Flat, Cresson, Venus, Egan, and Liberty Chapel.  We have also expanded into Hood County and we are providing carpet, tile, rug and upholstery cleaning in Granbury, Pecan Plantation, and DeCordova, Texas.
Take a look at some of our many comments from happy customers in our Local Reviews.
Johnson County Chem-Dry is a proud member of the Indoor Air Quality Association!  We're committed to providing superior solutions and services that you can trust to keep your home clean, safe and healthy. Using a green-certified solution and our proprietary Hot Carbonating Extraction cleaning method, we are able to deliver a deeper, longer lasting clean that leaves you with peace of mind and a healthier environment for your family.
Check in often to Read our Blog!