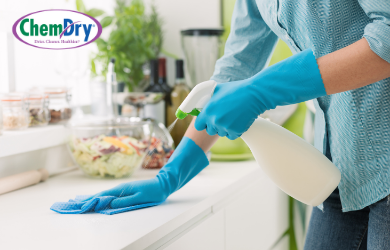 If you're like most people, you didn't spend a lot of time thinking about disinfecting before 2020. Most of us grabbed a familiar product off the store shelf and didn't think twice about it. The COVID-19 pandemic has brought with it a greater need for disinfecting at home, but the dos and don'ts circulating on the internet can be confusing. Here are three of the top disinfecting mistakes to avoid: 
Clean before using disinfecting products.

Cleaning refers to using water and a product like soap to remove dirt and other debris from surfaces. Cleaning does not kill germs and bacteria but can reduce the amount of them on a surface. It is a vital first step that shouldn't be missed. Cleaning a surface before applying a disinfectant allows the product to work better. 

Read the product label before use.

It's common for people to assume that all disinfectants work the same way, but that couldn't be farther from the truth. Each product has its own individual concentration, which means unique requirements for use. Reading the label ensures you'll get the maximum effectiveness and protect yourself by knowing the proper safety protocols. 

Don't immediately wipe the disinfectant away. It's cleaning instinct for most of us, you spray and then you immediately wipe the surface. But that's not how disinfectants work. In order to kill germs, disinfectants have a "dwell time" or amount of time they need to sit on the surface they're disinfecting. This typically ranges from 1 to 10 minutes, depending on the product. If you aren't giving the product time to do its job, you're most likely leaving germs behind.
Prefer to leave the disinfecting to the experts? Johnson County Chem-Dry can help with our new MicroPro ShieldTM Service which includes the application of an EPA-registered, hospital-grade disinfectant along with the application of a protective antimicrobial coating to surfaces that were disinfected, inhibiting the growth and spread of microbes (bacteria and algae) on contact for up to 3 months.2
Learn more about our MicroPro Shield service here.
1Based on EPA registration # 82972-1. Hard surface bacteria tests were based on independent lab testing associated with EPA registration # 82972-1; sealed stone and VCT surfaces were evaluated for 38 pathogens including bacteria, germs and viruses. Our sanitizer associated with EPA registration # 82972-1 has been approved by the EPA for use against SARS-CoV-2, the cause of COVID-19.
2Based on EPA registration # 87583-3. Effective against algae and odor and stain-causing bacteria.
Local Family Business
We service all of Johnson County, TX including the following cities:  Mansfield, Burleson, Cleburne, Joshua, Grandview, Keene, Godley, Alvarado, Rio Vista, Crowley, Briaroaks, Cross Timber, Rendon, Lillian, Sand Flat, Cresson, Venus, Egan, and Liberty Chapel.  We have also expanded into Hood County and we are providing carpet, tile, rug and upholstery cleaning in Granbury, Pecan Plantation, and DeCordova, Texas.